Health Care for Women by Women
Patients are at the center of all we do, and you are the basis of our compassionate, quality care model. At our practice, you receive more than excellent care; we also offer comfort and convenience.
Online scheduling is available 24/7. Our Phreesia check-in system allows you to conveniently register and complete forms before getting to our office.  You can use the Athena Patient Portal to send messages to your doctor, review test results, and request assistance with appointments or billing. Our office is easily accessible so you can avoid the stress of navigating the traffic of medical campuses and the nuisance of parking decks. Even more importantly, you can have your health care screenings—such as our 3D mammography—at the same time as your annual exam.
Our goal is to keep you well-informed and healthy.  We emphasize preventative care and screenings to catch any health issues early before they become serious problems.  We want to educate and empower you so that you may become proactive in your healthcare.
These are a few of the reasons that we have been recognized for clinical excellence by the National Committee for Quality Assurance.  We're also certified by Blue Cross Blue Shield (BCBS) through the Blue Quality Physician Program (BQPP).
As an all-female physician OBGYN practice in Raleigh, all of our doctors are board-certified by the American College of Obstetricians and Gynecologists, and they've completed extensive, specialized training through OBGYN residencies after medical school.  Hospital services are provided at UNC Rex Healthcare.
Our Team-based Approach to Medicine
You deserve a comprehensive team-based approach to your health care. Our knowledgeable doctors, nurses, medical assistants, sonographers and mammography technicians work together to address your individual healthcare needs.
When additional services are needed, we maintain co-management agreements with area primary care providers and specialists in order to streamline referrals.
As a woman, you will go through a lifetime of changes. We understand you. We empathize with your needs. We treat you the way we would want our mothers and daughters to be treated. This is why we provide you with patient-centered, evidence-directed, quality-driven care in a home-like environment.
Services We Offer
You can take advantage of our full range of obstetrical and gynecological services including:
In-office procedures such as:

Novasure ablation
Minimally invasive Da Vinci robotic surgery

Laboratory services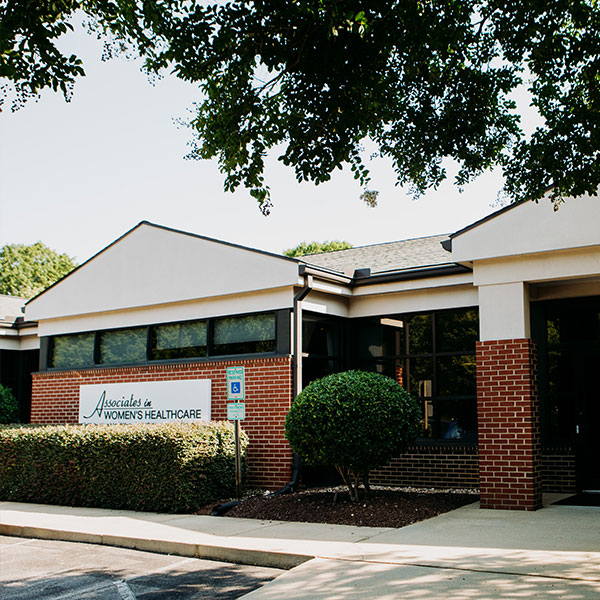 It's Easy to Schedule an Appointment with Associates in Women's Healthcare
Your health care needs change throughout your life, and we want you to know that we customize our care to address your varied needs. We want to be a partner in your care.
Typically, you can get an appointment within two weeks.  Schedule an appointment easily by: