Healthcare For Women by Women
Our state-of-the-art ultrasound technology helps provide us with the best in advanced care, whether we're capturing baby's first photo or evaluating a gynecologic problem. Our sonographers have over 20 years of experience and are certified by the American Registry for Diagnostic Medical Sonography.
Ultrasounds – also referred to as sonography or diagnostic medical sonography – do not use radiation like a CT scan or an X-ray.  Instead, they utilize sound waves to create images in real time.  We perform both gynecology and obstetrics ultrasounds.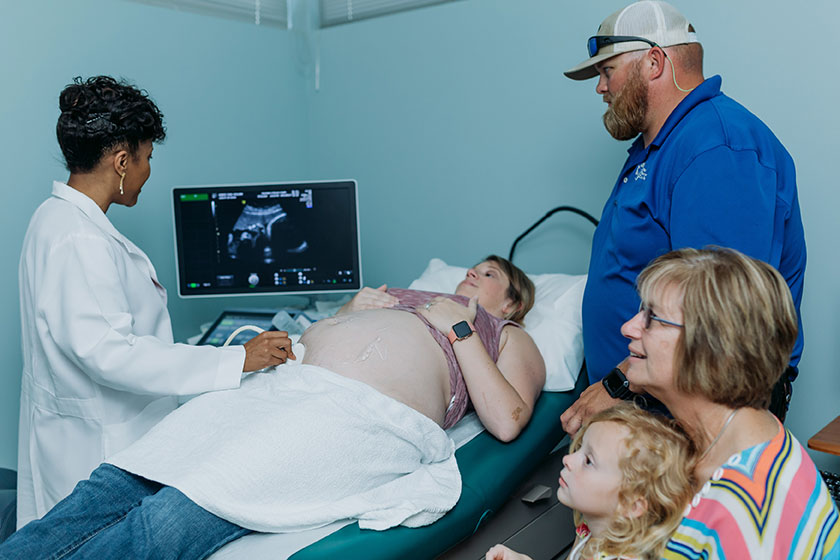 Ultrasound During Pregnancy
Patients are typically scheduled for three ultrasounds during their pregnancy:
During the first trimester (~ 8 weeks) to establish viability and confirm your due date.During the second trimester (~18-20 weeks) to evaluate the baby's anatomy. You may also be able to tell the baby's gender at this time if you are interested! (Ultrasounds are sometimes done with a maternal fetal specialist, and if that is necessary, we would discuss this with you.)

During the third trimester (~36 weeks) to verify the baby's position.  If we find that the baby is breech (bottom presenting) we can sometimes help the baby to turn and increase your chance of vaginal birth.

Other Medically Indicated Ultrasound
From time to time in the pregnancy there may be a medical or fetal indication for ultrasound and that would be discussed with you and ordered as needed.
Elective Ultrasounds
We are now pleased to offer 3D/4D ultrasounds for an early peek at your baby. The ideal time to obtain the best images of your baby is between 26 and 32 weeks.  Currently there is no medical indication for 3D/4D ultrasounds, and the cost is not covered by insurance plans. However, unlike commercial centers, our imaging is reviewed by a physician who will assess the growth of your baby and the fluid surrounding your baby.
Tricefy©
We offer a complimentary new service which provides the patient with immediate access to ultrasound images and videos. Tricefy delivers the images directly to the patient's smart phone through a secure link.  The patient is able to share the images directly with friends and family.
Gynecologic Ultrasound
Ultrasound is frequently used to examine the anatomy of the cervix, uterus and ovaries.  This diagnostic tool helps to evaluate abnormal uterine bleeding, pelvic pain and infertility.  It can frequently detect uterine fibroids, cysts and pelvic masses.  Depending on what our concern is, your ultrasound may be either vaginal or abdominal.
A Team-Based Approach to Provide You with the Best in Health Care
We have experienced specialists in a convenient location to provide extensive, team-based care for all your OBGYN needs. In addition to our experienced gynecologists in Raleigh, we also have nurses, medical assistants, sonographers and mammography technicians working together to assist you.
Contact us for an appointment. We would love the chance to guide you and help you maintain a healthy overall lifestyle.
Do you want more information about ultrasounds? Please contact us for any information. You may also wish to explore the details provided by the American College of Obstetricians and Gynecologists.